Maestoso Eleonora
---
V-LN: 5381873 - V-ID: 9855
Lipizzaner Schimmel (EE aa nSty GG) Wallach
Ausführliche Genetik: E/E a/a G/G Sty/S
152cm Stockmaß

Als Turnierpferd eingetragen

Zum Original-Steckbrief

---
Nachkommen im Register
---
Maestoso Eleonora hat 1 Nachkommen
Name
Rasse
Geschlecht
Farbe
Mutter
Saphir NRC
v-LN: 7297916 - v-ID: 23079
Victorian Warmblood
Stute
Schimmel
Salsa Dance Wv
v-LN: 6847825 - v-ID: 93040
Sternhof
Mehr Informationen
---
Maestoso Eleonora has been competing at Combined Driving / two-team at the CDF. His team-mate was Maestoso Adriana.
Elvis, as he is called at the barn, is a strong character and certainly knows what he wants. He is very self-concious and sometimes a little bold so be braced for this boy or you will lose it. When handling Elvis you need to be straight in your commands or he will have time to act up on you. Sounds difficult? He sometimes is, yes, but dont be afraid of him, as far as we all know, Elvis never truly hurt somebody or even got close to it. He knows when its enough and most of the time he is a really nice guy... but be aware of his temper and keep an mind that this boy needs a firm hand.
Zuchtbewertung
---
Maestoso Eleonora wurde aufgrund von BHA Erfolgen zur Zuchtbewertung zugelassen und am 25.11.2019 bewertet
Gebäude:
8
Bewegung:
5
Rittigkeit:
5
Typ:
8
Gesamteindruck:
7
In Summe
33
Punkte
Auszeichnungen
---
2016-01-01
Victorian Horse Council
Base Inspection: Pedigree: 8 Conformation: 6 Movement: 7 Build & Appearance: 7 Suitability/Performance: 8 Overall Impression: 7 Score: 43 / 60 Victorian Warmblood Stud Book Approved: VWB-F
2017-06-25
Southern Acres Inc
Conformation & Presence: 8 Movement & Rhythym: 5 Ability & Rideability: 5 Breeding Suitability: 8 Overall Impression: 7 Total Points Awarded: 33
Erfolge im Register
---
Maestoso Eleonora startet international in folgenden associations:
CDF
CDF Hall of Legends
2033 points
BHA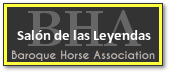 BHA Salón de las Leyendas
3107 points
ASDC
290 points
Maestoso Eleonora hat keine nationalen Erfolge verzeichnet
Diese Seite wurde in 0.121 Sekunden geladen

© 2012 - 2020 All Rights Reserved.
Kontakt
Diese Webseite ist reine fiktion.
Alle Daten und Tiere auf dieser Seite sind nicht real und haben keinerlei Ursprung in realer Zucht.
Übereinstimmungen sind reiner Zufall und nicht beabsichtigt.